Education Club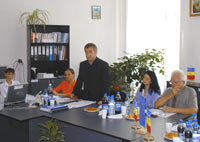 Clubul Educatiei - September 2004
Educator's Club is a centre for exchange of experiences and innovative knowledge transfer at grass-roots level. The project is supported by National Foundation for Community Development, with the expertise of Agata Publishing House and TEHNE.
The project - comprised of periodic meetings of teachers, school inspectors, journalists, researchers - is addressed "to those interested, in love with, scared of, motivated, enthused or perplexed of what is happening or what is not happening in education". The frames for discussions are proposed by teachers, journalists or even pupils and echoes of these meetings reach decision levels and local newspapers.
Within the project, TEHNE is the reviewer for the periodical EDICT - Education Review (a Education Club journal) and provides external evaluation for some activities.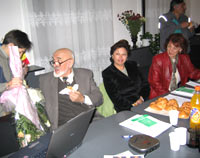 Clubul Educatiei - November 2004
More information about this innitiative can be found at (in Romanian only):
http://www.edict.ro/articole/e07-clubul-educatiei.html